IMAGINATIONS GROW AT CLIFFORD CHILDREN'S GARDEN
CLIFFORD TOWNSHIP PA–A very special place continues to come alive in Clifford Township. Since last spring, the Clifford Township Historical Society (CTHS) has been working tirelessly to raise funds, to collect designs and ideas, to build, install, and plant to literally 'grow' the group's newest and most unique project: a Children's Garden.
"It's an ongoing and wonderful project that involves so many people," said CTHS President Sandy Wilmot. "All summer long, everyone has been coming together so supportively to turn the Children's Garden into a reality for Clifford. Since the beginning, lots of local children have been especially helpful and very hands-on involved to move this project forward. They're not bashful either, as they're always coming up with new, fun, and very imaginative ideas to make their garden extra special."
The concept for Clifford's Children's Garden was initially developed to create a safe and interactiveplace for children to play and was modeled after the Ithaca Children's Garden. Looking beyond mere swings and slides, the CTHS offered a way in which children can play while also learning about nature, the area's own rich history, and its inherent ecology. With the enthusiastic support of the township supervisors, the one-acre site next to the Community Center has literally been growing throughout the summer months, as countless volunteers have shared their time and lent their helping hands to turn a fun-filled idea into an expressive reality. Funding for the project has been provided through grants and donations.
"The Historical Society received a $4,000 mini-grant from the Endless Mountains Heritage Region to initially help construct the garden," Wilmot said. "It required a 100 percent cash match, which we've happily surpassed through the amazing donations that have generously come from so many area folks."
"Clifford's Children's Garden is unusual in that it's a different and very unique way to engage kids in fun and creative play, and all within a safe environment," added Annette Schultz, Executive Director of the Endless Mountains Heritage Region. "And with the teaching elements of history involved to help visitors better understand the background, the people, and the lives of those who were here before us … well, that's a definite added asset.
"I visited the Children's Garden site a few months ago and could see the remarkable things that were happening in Clifford," Schultz continued. "There's so much imagination and creativity involved, it's really amazing. But looking beyond the garden itself, this project has some great potential to become an asset to all of the four counties of our region. Over time, it could perhaps serve as a pilot for other towns throughout the region to help jumpstart new and developing ideas of their own. I can't wait to see the garden's completion and to help promote Clifford's idea to other towns throughout the region."
Working toward that completion, about a dozen children aged 2-15, along with their parents and friends, gathered on a recent fall weekend to paint the four doors of history, install sign posts, plant the 180-foot willow tunnel, hand-shovel dirt and carry unwanted sticks to a clean-up pile, erect standards for a musical mountain, create a human-sized checkerboard, hand built a giant dinosaur's nest, and so much more. They also 'seeded' a self-created mine shaft that replicates the old Clifford Shaft, which was the area's northernmost end of the anthracite coal vein. "It was an amazing work weekend," Wilmot said. "We made great progress. The kids went home tired and dirty – it was great!!! There's still much more to do, but seeing everyone come together like this was absolutely motivating. I hope to schedule two or three more such events before winter."
Among some of the jobs still to be done, Wilmot said, "We need to plant several donated berry bushes, finish building the log cabin and lean-to barn, install the concrete horses, turn an old farm wagon into a covered wagon, and install a bathroom in the house. Throughout the winter, some of the older kids plan to do some of the research for the signage and story boards that will be located throughout the garden. Then in the spring, we'll build the Indian village with its long house and sister garden. It's definitely an ongoing project, but one that will be enjoyed and shared for generations to come."
For additional information about the CTHS or to share and participate in the Children's Garden and their various activities, contact them at 570-679-2723, swilmot@echoes.net or at www.cliffordtownshiphistoricalsociety.org. Known locally as "the little society that does big things," Wilmot believes that the Children's Garden will be another project that will make the Society, the youth involved, and the entire community proud.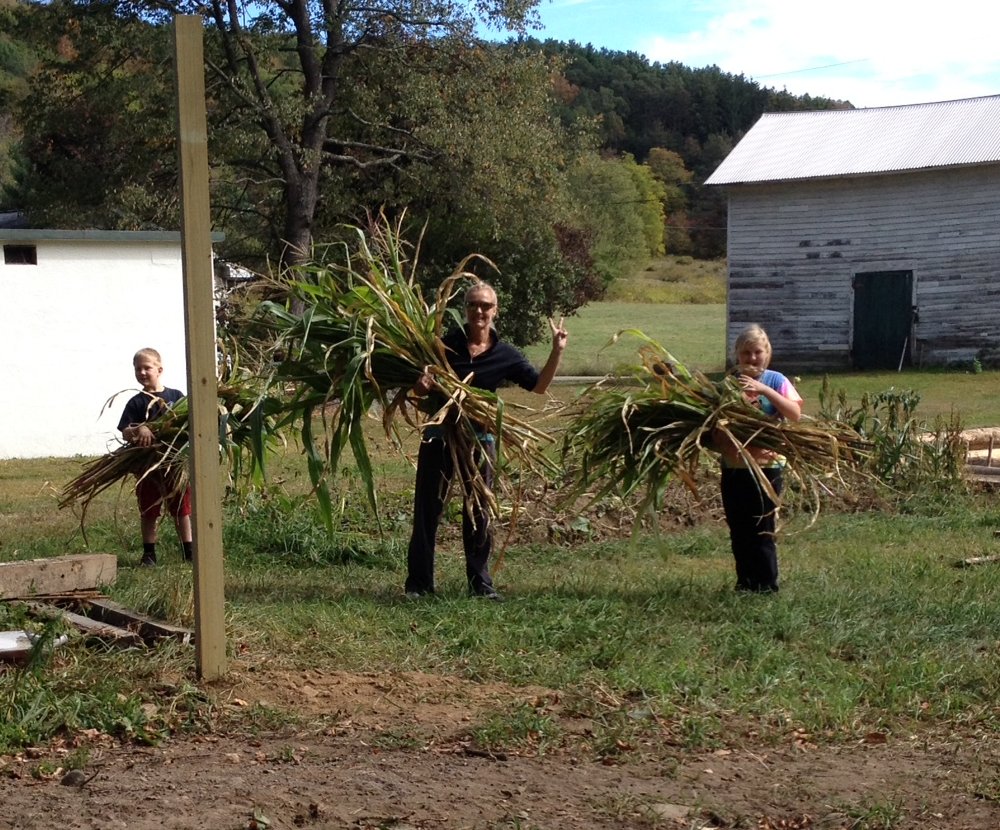 Conrad, Christine, and Ava Depew of Clifford have fun gathering cornstalks to sell as a fundraiser for the Clifford Children's Garden.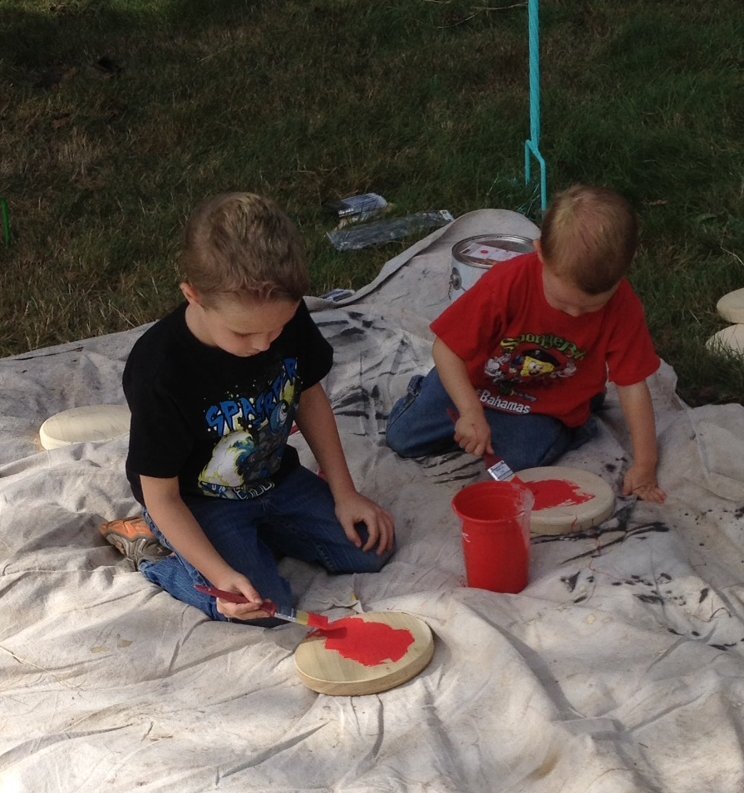 Written by Union Dale freelance feature writer Karen Bernhardt Toolan for the Clifford Township Historical Society, with thanks to the Susquehanna County Room Tax Grant Fund through the Endless Mountains Visitors Bureau.