Clifford Township Historical Society's First Open House of this season Sunday  May 21-  one to  four o'clock.
     Spend a unique and enlightening afternoon in Clifford, PA. visiting the three venues the Clifford Township Historical Society (CTHS) proudly presents free to the public on the third Sunday of each month May through October 1pm to 4pm.  All venues are ADA accessible.
    Start your historical tour at the Baptist Church on Church Street in Clifford. Our docent will acquaint you with the rich history of this local church that has held services continuously since Tomas Jefferson was alive! Marvel at the story of the connection between this church and the Baptist Church established by Reverend Dr.D.S.W Rivenburg over 125 years ago in  the Kohima District of Nagaland. A spear from that congregation is on display in our church!
     Continue with a visit to the Museum of Local History at 119 Cemetery Street, just around the corner from the Baptist church.  On display in the Museum of Local History  is a dugout canoe which was found in a local pond and donated to the Clifford Historical Society by Jim and Valerie Cole. Local artist Michelle Jaconia McLain completed an incredible twenty foot mural depicting the daily activities of the local Native Americans, including the construction of  our dugout canoe which has been dated to 1692. A recording by Frank Little Bear highlights the canoe exhibit. Our docent's stories will bring the other museum exhibits to life!   Recently Jean Katz and her daughter donated many Native American items  to add to the museum.  The desk from Galusha Grow's home was also recently added.  Do you know what the colors of a barber's pole represent, where the bedtime saying "sleep tight" came from, the story behind hobo art, the advantage of a double chamber bellows, how to control your horse going down  our local steep hills ? A visit to our museum will answer all these questions! We are very proud of our museum so we hope you will make the effort to visit. You will be glad you did!
  Our renovated  Hoover School at 2236 State Route 2014 school is just two miles from The Local History Museum. Sign the original blackboard at the school and hear the stories of the high jinks of students in the past! Students learned how to learn in these early schools, enabling them to compete in the job market their entire lives with younger workers with "modern" educations.
Entire families can learn about our local history and share their own stories.
For additional information or questions, call Sandra Wilmot  at 570-679-2723 or email Swilmot@echoes.net or Pat Peltz at  Peltz@nep.net  
About Us
We are Clifford Township Area
Our society's motto is the little organization that does big things.
Clifford township's bicentennial celebration  in 2005 resulted in the formation  of our Historical Society. Since that time,  fantastic community support has  made it possible for our small organization to renovated the Hoover  one room school, create a Museum of Local History and  build an  Agricultural Museum.
Our most ambitious project has been the renovation of the Yarns Cider Mill,  which is now nearing  completion and  will  press apples through the original 1894 Boomer & Boschert  Screw Press inside the totally rebuild mill. But our most rewarding and just plan fun project has been the  Clifford Children's Garden, It is located adjacent to the 38 acre Clifford Community Park  and offers a one acre enclosed area for all ages to enjoy educational signage of our local history while  children grow their imaginations and hopefully learn to love history by playing in the different sections of the Garden based in the past.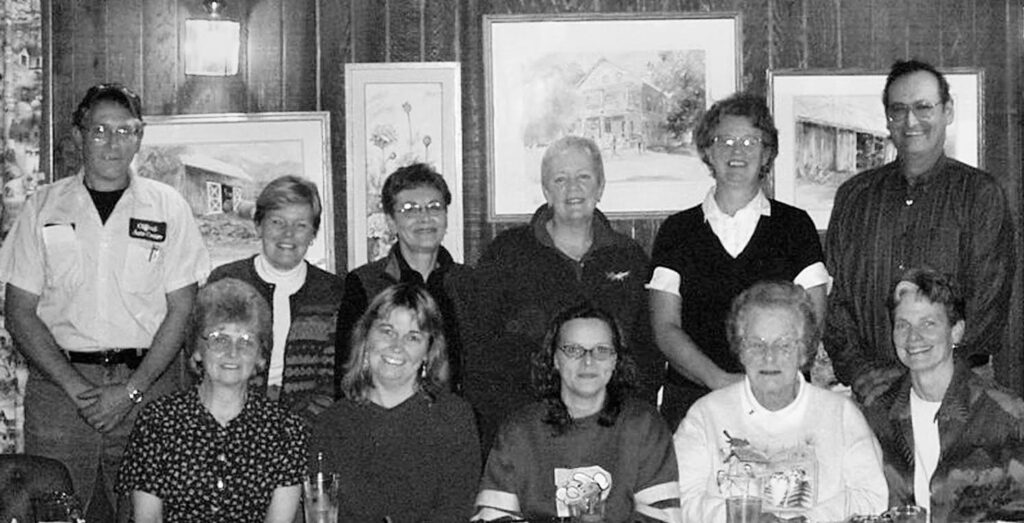 CLIFFORD BIRTHDAY — Initial meeting of Clifford Area folks who were interested in the Bicentennial Celebration and the preservation of our local history. Back row: Jerry Verboys, Jo Ann Hall, Norma Genevich, Debbie Kutch, Sandy and Mark Wilmot. Front row: Patty Peltz, Sandy Mowry, Kim Bostjancic, Irene Harris, Sally Fischbeck.